quattro®
Always ahead of the curve
For 35 years, our legendary quattro® all-wheel drive has pushed vehicle performance - and the thrill of the ride.


A gripping proposition

quattro® all-wheel drive isn't just designed for wet weather. With its legendary grip and available torque vectoring technology, quattro® significantly enhances handling and cornering performance in dry-weather conditions as well.
The always on, all-weather, all-wheel drive

When the weather shows you its worst side, our legendary quattro® all-wheel drive shows you its best. By intuitively sending power to all four wheels, quattro® delivers power to the wheels with the most grip, maximizing traction in wet-weather conditions.
One size does not fit all

Unlike some other all-wheel drive systems, Audi tailors each quattro® system to the specific vehicle it's found on. For example, our high-performance models are available with a unique version of quattro® that differs from our SUVs. By tailoring the system to each vehicle's intended purpose, quattro® can provide enhanced performance and traction benefits.
The legend of quattro®
Thirty-five years ago, Audi quattro® became the first permanent all-wheel drive system for passenger cars. Since then, it's inspired many imitations - but no equal.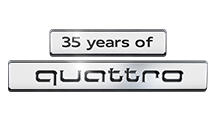 Make an Inquiry
* Indicates a required field