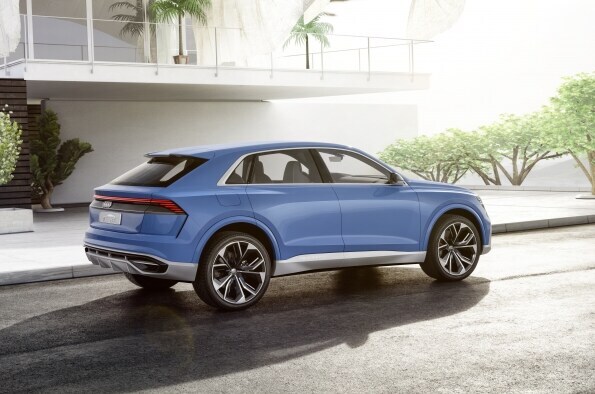 The annual Geneva Motor Show just wouldn't be the same without new Audi cars to capture the public's imagination. This year was no exception, as the company debuted two upcoming vehicles that will be available soon to the Santa Clarita, CA drivers served by Keyes Audi Valencia.
Audi Q8 Sport Concept
We've seen the Audi Q8 concept before, but Geneva is the first time we're seeing it in its Sport guise. Even though it doesn't quite hit S or RS levels of performance, the Audi Q8 Sport looks to hold its own.
It starts with an electronically supercharged hybrid V6 engine that displaces 3.0 liters. The company says the engine will top out at 476 horsepower and 516 lb.-ft. of torque, which should be more than sufficient for a sub-five-second zero to sixty time. The chrome accents of other Audi cars are replaced with black trim, as well as the honeycomb grille usually found only in the RS series.
Audi RS5
We've also seen the Audi A5 variant Audi RS5 before, but not quite like this. There's a new engine under the hood. At 2.9 liters, it's 1.3 liters smaller than the engine it replaces. It sacrifices nothing; the twin-turbo V6 pumps out more horsepower and torque -- 450 horsepower and 443 lb.-ft. of torque -- paired to an eight-speed automatic transmission and the Audi Quattro AWD system. Thanks to the lighter engine and extensive use of carbon fiber, the car is also much lighter than before. No surprise that it can go from zero to 60 in 3.9 seconds.
As is usually the case with motor shows, these new Audi models will take time to come to the closest Audi dealership. That doesn't mean you have to wait to drive the luxury performance car of your dreams. Just visit Keyes Audi Valencia. We serve Ventura and Santa Clarita at 23923 Creekside Rd in Valencia, CA today to learn more about the Audi A4, 2017 Audi Q7, or any of the other great options we offer!