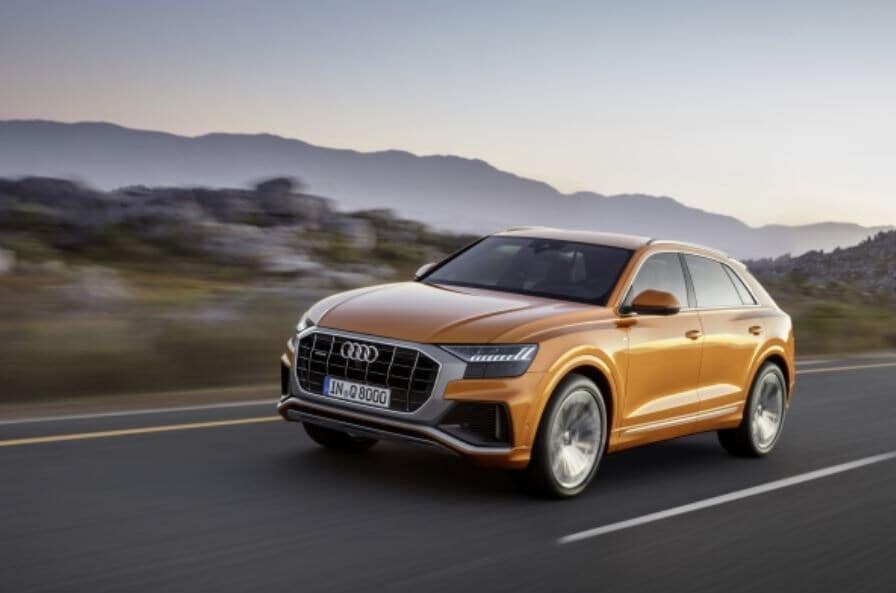 The world got its first glance at the Audi Q8 concept at last year's North American International Auto Show in Detroit. The project was greenlit soon after, and barely a year and a half later, we're getting our first look at the production version: the 2019 Audi Q8, due at Audi Valencia this autumn.
The Audi Q8 will sit firmly atop the new Audi SUV lineup. Perhaps unusually, it's a five-passenger SUV (those wanting a third row will have to opt for the Audi Q7). A second glance suggests why this might be the case: even though the Audi Q8 has a wider stance than the Audi Q7, it's also shorter, with the kind of sloping, coupe-like roofline that's become popular in recent years.
That might've made a third row uncomfortable, but you'll still have a maximum (and very practical) 62 cubic feet of cargo space. Even though ordering opens in roughly a month's time, powertrain specifications are still hazy. An eight-speed gearbox, standard Quattro AWD, and mild hybrid technology are confirmed, but the engine is yet to be confirmed (our money is on a turbocharged 3.0 liter V8 engine).
Safety features are likely to be nigh identical to what's available in the current Audi Q7, though we're also looking forward to semi-autonomous parking features, Curb Warning, and Cross Assist, which warns when a turn could be unsafe.
The interior looks to be as sumptuous and well-appointed as we've come to expect from Audi cars. So, too, is the technology on offer — dual touch-screens, Audi Virtual Cockpit, a heads-up display, and a natural voice command system that keeps your hands on the wheel and your eyes on the road.
If you want more information on the 2019 Audi Q8, we invite you to Audi Valencia. We serve Los Angeles and Oxnard from our convenient location at 23923 Creekside Rd.