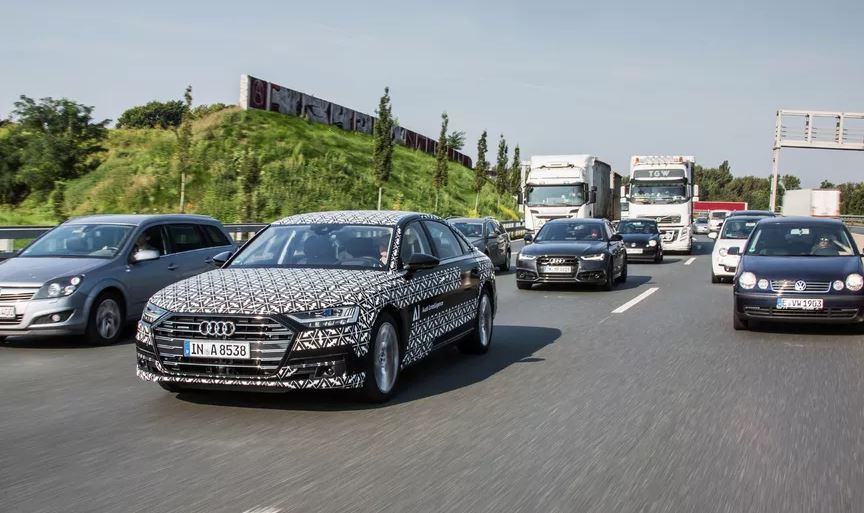 It's the biggest development on one of the most anticipated Audi models in years. And you can't have it. "It" is the brand's Traffic Jam Pilot, and it won't be available to drivers in the United States — yet. Here's what the US market gets instead when the car arrives at Audi Valencia.
If you recall, Traffic Jam Pilot and the next-generation
Audi A8
each got a huge push from Audi AG last year, being debuted on the big screen in Spider-Man: Homecoming. We may have been the only ones watching for the cars while munching our popcorn (the Audi TT also had a starring role, after all).
We were thrilled by the prospective off-screen arrival of the 2019 Audi A8. But we were disappointed and a bit puzzled by the exclusion of Traffic Jam Pilot. It's available in the European market, and offers Level 3 autonomy at speeds below 37 miles per hour. It combines LIDAR with next-generation sensors and processors, and has redundancies hard-wired in to prevent failure. It provides hands and eyes-free response to potential traffic hazards.
So why isn't the American market getting what CNET's
Roadshow
said "would likely have been the most advanced partially automated-drive system on the market"? In short, the regulatory environment here (inconsistent federal legislation, and a patchwork approach on the state level) won't allow it.
The good news is that some of the technology — the LIDAR and processor — will be there, underpinning a Level 2 system with an upgraded adaptive cruise control system. Other innovations, including a predictive active suspension system that raises the chassis when a side impact is imminent, and a new Intersection Assist feature, are exclusive to the Audi brand for now and will also be options when the car arrives at Audi dealerships.
So we're disappointed, but not crestfallen. The 2019 Audi A8 is still shaping up to be a great
new Audi car
, and will be quite a feather in the brand's — and our — cap. Visit Audi Valencia at 23923 Creekside Rd today to learn more.