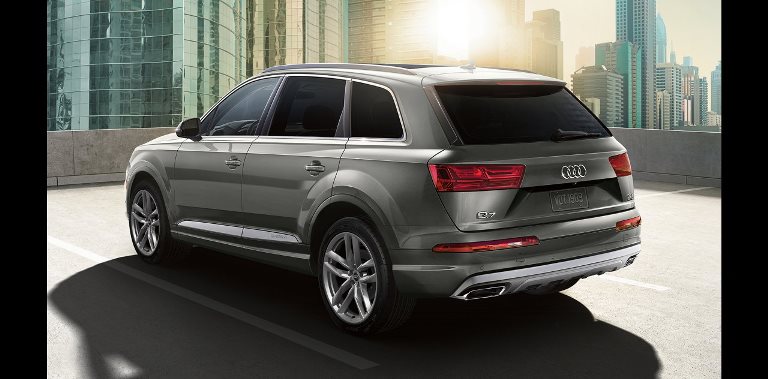 Two new Audi SUVs are getting a lot of press lately. One is a reliable standby, and the other is one of the Audi brand's latest additions. Because they're similar in size, comparisons are inescapable. So how, exactly, do the 2019 Audi Q7 and the all-new 2019 Audi Q8 compare to one another? Here's our take on the new fraternal twins at Audi Valencia.
Let's start with what's similar. The two SUVs are very close in size, though the Audi Q8 is just slightly larger than the 2019 Audi Q7. That size difference helps to offset a key structural difference between the two: the Audi Q8 features a sloping, coupe-like roof. That's also the reason the larger SUV only features seating for five — very ample and spacious seating, mind you — versus the third-row seating available in the somewhat smaller Audi Q7.
Powertrain options are another key difference. Both SUVs share the same eight-speed Tiptronic engine and standard quattro AWD, but things diverge from there. The Audi Q7 features a choice of engines, one a 2.0 liter turbocharged four-cylinder engine that's good for 252 horsepower, and the other a 333 horsepower turbocharged 3.0 liter six-cylinder engine. The latter engine makes a repeat appearance in the Audi Q8, but in a higher state of tune (335 horsepower and 369 lb-ft. of torque).
Things are more evenly matched on the technology front. Speak to your Audi dealer serving Bakersfield for more details on safety features, infotainment systems, apps, and a plethora of other standard and optional tech. Better still, just visit Audi Valencia at 23923 Creekside Rd for a test drive.
The bottom line? If you can take the small hit in cargo volume and seating space, the Audi Q8 offers a level of indulgent luxury we think you'll love. If, on the other hand, you really need the seating or a slight bump in cargo space with the third-row seats down, the Audi Q7 wins by a nose. You really can't go wrong either way. Check them both out at Audi Valencia today to see which one suits your fancy.