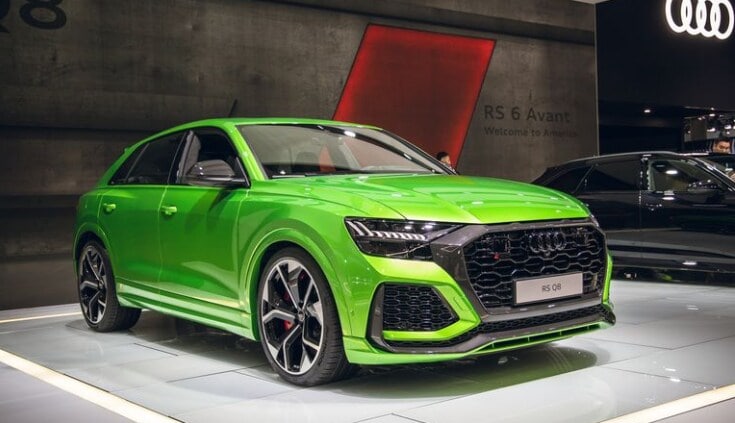 There's always something to get excited about coming down the Audi pipeline. But as we get into auto show season here in the U.S., the news trickling out of Los Angeles, Chicago, and Detroit never fails to generate major excitement, both for the people who work at your
Audi dealership serving Santa Clarita, CA
and the customers who shop there. This time around, the all-new
Audi RS Q8
, the first Audi RS-SUV in America, is the vehicle that's generating all of the buzz.
The Audi RS Q8 made its debut in late November at the Los Angeles International Auto Show, and it didn't take long for fans of the brand to generate excitement about a high-performance version of the respected Audi Q8 SUV. With a 4.0-liter V8 engine capable of producing 591 hp and 590 lb-ft of torque, this model is going to be an absolute thrill to drive. In fact, the Audi RS Q8 recently became the fastest production SUV to ever lap the Nürburgring racetrack with a time of 7 minutes and 42.2 seconds, and it can jump from zero-to-62 mph in just 3.8 seconds.
In short, this is a powerful, high-performance SUV that frankly drives like a racecar when it wants to. All that muscle combined with the Audi quattro all-wheel drive system, a standard eight-speed Tiptronic® transmission, and adaptive air suspension with controlled damping gives this SUV a level of performance uncommon in its segment. No wonder so many people are buzzing about it.
While many
new 2020 Audi cars
and SUVs already are available here at Audi Valencia, we have been told not to expect this one until sometime in the 2020 calendar year. It will be available for customer orders sometime soon, at which point we expect people to fawn over such an impressively powerful luxury SUV!