Service Menu
Check out the Keyes Audi Valencia Car Service Menu for all of Your Automotive Needs near Los Angeles, CA
If the time has come to take your Audi A3, in for a Audi car service appointment, you may be wondering what the visit will entail. Perhaps you are curious as to the types of services we offer here for our Ventura, Oxnard, Santa Clarita, and Los Angeles customers. At Keyes Audi Valencia, we are committed to providing you with the convenience to get everything your new Audi car or SUV needs without having to remember a bunch of different addresses. It all can be found right here.
Does your pre-owned vehicle need a tune-up, engine work, belt or hose replacement, or another major service? Our team of Audi trained technicians are on site to answer questions, diagnose, and repair these issues, however big or small. Yes, we even handle your brake repairs, oil changes, wiper blade change, and fuel system cleanings. We stock the Audi car parts that you need for your repair, to replace any accessory, and in the event that you should decide that you need a quart of oil or another item at the last minute, simply contact us and let us know what we can do for you.
Offering convenience to our customers is about more than providing a wide selection of new Audi models, which is why these services are provided regardless of whether you bought your vehicle with us or not. Did you know that we also service other oem models? It's true, so have a look around and explore these services in the tabs provided here and contact Keyes Audi Valencia online to schedule your appointment. Are you realizing that your oil change is coming due and our shop is closed? No worries, because you can access our service scheduler 24 hours a day, 7 days a week. Our Audi dealership in Valencia, CA strives to be the model of convenience, so let us show you the customer service experience that we are known for!
Oil Change
Get Your Oil Changed and Keep Your Vehicle Performing at its Best for Many Miles
You put a lot of time into finding the perfect new car, so make sure you take car of its engine. When you need to have service on your car or SUV, you don't want a stranger working on it, especially considering the fact that you can't be certain of their credentials. Our technicians are trained by Audi and while it may not make a difference to you if we know your car inside and out, it matters to your car.
Why Does My Audi Vehicle Need Regular Oil Changes?
There may be a theory circulating about oil changes that they aren't necessary, but the truth is they provide an integral service for your car or SUV. As your engine creates heat, oil acts as a coolant, reduces wear on the working parts, and collects debris that might otherwise harm your vehicle. Oil provides a seal on the cylinder walls, pistons, and rings to help them properly function and improve the performance of your vehicle. Unfortunately, heat also breaks down the oil and reduces its effectiveness, which is why it is important to stick to the maintenance schedule in your owner's manual.
If your engine oil gets old, it turns to varnish inside the engine and it could cause damage, plus if you aren't keeping up on regular oil changes, that debris we mentioned has not only managed to find its way inside, but it's probably setting up house. Properly flushing out the old engine oil and replacing it with new stuff will remove toxins and continue to provide an important service to your vehicle.
Benefits Of Having Routine Maintenance
Having routine oil changes will keep your engine from getting too worn, too hot, or bogged down with varnish from the old oil. This regular flushing will ensure the best possible performance from your car or SUV for as long as possible. Longevity is no laughing matter when it comes to your Audi model, so why not give it the best chance it has at providing you with miles and miles of loyal service?
Here at our dealership we believe in using only Audi Genuine Parts for the top level of performance and lifespan so our customers can get the most out of your vehicle. Using parts designed specifically for your luxury car, even oil and filters, improves its ability to be with you down the road. While it may seem tedious to provide this service every few thousand miles, your car will thank you, so don't let your vehicle miss out.
Brake Service & Repair
Keep Your Vehicle Safe with Brake Service & Repair in Valencia
You know that bringing your Audi car or SUV in for regular service is key to preserving its ability to provide you with the performance and fuel economy that you purchased it for in the first place. You understand that regular oil changes protect your engine and frequent tire rotations maintain your car's grip on the road, improving safety, but what about your brakes?
Your brakes are what stops you, slows down your vehicle, and could be seen as the most important safety feature on a car, which is why we want our customers to know more about them. Having your brakes serviced on a regular basis with Audi Genuine Parts is key to maintaining their ability to do their job.
How Often Should You Consider Brake Service?
We suggest consulting your owner's manual to ensure you have the accurate timeline for repairing your brakes, because across the Audi model lineup there is not one set rule. For example, your 2015 model year Audi may need brakes checked at 5,000 miles, then again at 25,000, and at intervals of 20,000 miles from then on. If you own a high performance vehicle that travels a lot, the intervals could be fewer between each brake replacement, but typically a driver waits for the brakes to signal the need for replacement.
How To Tell Your Brakes Need Attention
We always suggest following your maintenance schedules, especially with brakes, but we understand that many drivers are busy, which is why we want you to be wary of the signs that your brakes are wearing out.
Squealing noise, grinding, or vibrations when applying the brakes
A strange smell, typically that of something burning, emits from the vehicle
Your car's dashboard lights up to warn you of your brakes' health
Don't wait until your vehicle's brakes fail, because for safety's sake you could easily schedule an appointment with Audi trained technicians who use only Audi Genuine Parts and offer service specials to make your day a bit brighter. Contact us with your questions or concerns, then let us show you how easy it is to maintain your car's brakes.
Tire Service
Tire Service, Alignment & Rotations For Your Audi Vehicle
Your car is a high-performance machine and it needs tires that are created to keep up with the demand, which is why our team provides the right size and brand tires that your vehicle needs to continue to give you the best driving experience. One aspect of tire care is the routine rotation and alignment service that maintains proper wear of your tire's tread so they last you the appropriate amount of time for your vehicle. The true life of your tires also depends on the horsepower of your vehicle, the type of terrain you travel on, and amount of driving you do, so be sure to monitor your tires closely.
How can you know if your vehicle needs to have its tires checked by our team of service experts? If you have been filling up your tires every couple of days but continue to find them low on air or flat, you need to have us take a look because a foreign object could be embedded in the tread causing a leak. If you drive your vehicle with improperly inflated tires, that too could be damaging, regardless of whether they are too low or too high in pressure. Maintaining proper tire pressure is as important as monitoring the tread wear for signs of uneven wear, nails, or other obvious flaws. Another method you can use to figure out if your tires need care is the power of hearing, because if your tires are too low you will hear it. The same goes for uneven alignment which could cause a vibration in the steering wheel and a pulling effect when you let go of the wheel.
If you believe your tires to be in need of our expert opinion, contact us and we can give you the time you need to explain your concerns. If it turns out your tires need to be replaced, we carry a wide selection of options that match Audi models specifically so you can get the right fit for the right performance. Contact our service team for more information and be sure to stay ahead of the problem for optimum performance.
Air Filter Replacement
Air quality is an important matter, but did you know that your vehicle helps you filter out the surrounding impurities so you and your family can breathe easy? It's true, your Audi can help you filter out the toxins in the air so the quality is better inside your cabin, giving you yet another benefit that extends beyond the performance specifications of these models. For those suffering from allergies to pollen, dust, or other containments, or to those sensitive to the harsh emissions from older vehicles, keeping your air filter clean and changing it out often can make a difference for you.
The big question might be how often to replace your air filter, which is an easy question to answer by browsing your vehicle's manual or by contacting our service department. The typical rule of thumb is every 15,000 miles, or every 12 months, depending on your specific driving conditions and frequency, and even with something as seemingly insignificant as an air filter is an Audi Genuine Part for the right fit and performance every time.
While it may be your vehicle's job to filter out he airborne toxins or particles that surround us each day, it's important to remember that regularly having the filter checked can help you continue to enjoy the fresh air with confidence. Research suggests that the vehicle in front of you creates an exhaust tunnel, which could cause the unfiltered emissions inside your vehicle to be more than six times higher than the outside air. This should help you consider the types of toxins that could be trickling into your airways and polluting your family's breathing.
For information or to schedule a service appointment to check your air filter, contact our team and discuss the particular needs for your vehicle.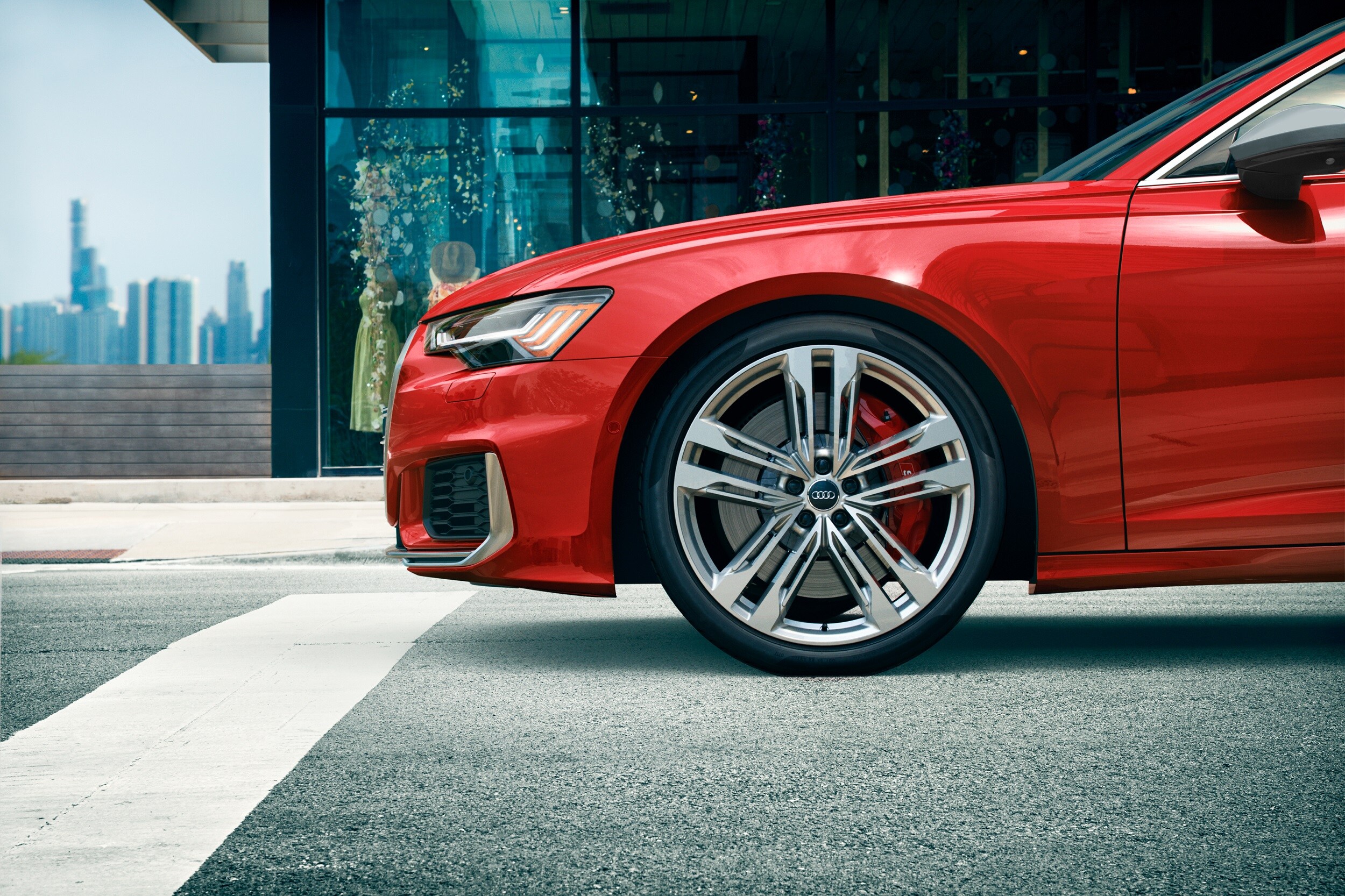 Complimentary Pick-up & Delivery
We are now offering
complimentary pick-up and delivery
for our Service customers within 20 miles of the dealership. Our service lane remains open so we can help keep you on the road. Contact us today to learn about our disinfecting and social distancing practices.
Schedule Service
Hours
Monday

7:30AM-5:30PM

Tuesday

7:30AM-5:30PM

Wednesday

7:30AM-5:30PM

Thursday

7:30AM-5:30PM

Friday

7:30AM-5:30PM

Saturday

8:00AM-2:00PM

Sunday

Closed